Upon Awakening
Mon-Sat @ 7:30am via Zoom
Zoom ID: 81393702530, Password: 37404
Chattanooga, TN
UPON AWAKENING Info Page
We belong to the Area 64 Assembly in the 83rd District.
Welcome to our information page.
We are a ZOOM only meeting and we would like to keep you updated regarding the happenings in our area.
Currently, there are many opportunities for service work, in our area.
We will be listing them here for you also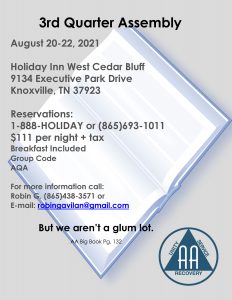 .
Please submit your announcements and flyers.
Taking meetings to the following Treatment facilities:
Zach B- Treatment Committee Chair- 423.800.2905
CRC residential- Tuesdays Men & Women's (separate locations) at 6
Harmony Oaks residential- Wednesdays at 7 (co-ed)
Next Treatment Committee meeting/orientation – August 5, 6 PM, outside at Grace Episcopal Church 20 Belvoir Ave.
If you know someone in your group who has a desire to do service work, this committee is ON FIRE! (In a good way!)
The Creepy Crawl is in October
Lindy (our events coordinator and alternate DCM,) is already meeting with anyone interested in serving. They are discussing a "Haunted House" this year.
Please contact our District 83 DCM Linda for any information and service contacts. d83dcm@area64assembly.org
Please contact us at shell@164pages.com to include your flyers and updates. Thank you.